Field House
Indoor Track
Walk, run, jog, stroll or wheel on the 6 lane 200m indoor track at the Field House. Indoor footwear must be worn at all times when using the track. You can bring your own baby stroller and walk around the track! The track is available during regular Field House operating hours.
Track Lane Measurements | 1609M = 1 Mile
| Lane 1 | Lane 2 | Lane 3 | Lane 4 | Lane 5 | Lane 6 |
| --- | --- | --- | --- | --- | --- |
| 200M | 209M | 218M | 227M | 236M | 245M |
Why is Indoor Footwear Important?
To protect and maintain our Field House facilities such as the indoor track, green courts and hardwood floors it is very important that all users wear non-marking indoor footwear. Rocks, dirt, sand and salt can become trapped in the soles of outdoor shoes and this causes damage to the specialized floors. Outdoor footwear may be wet This can cause the floors to be slippery and causes water damage to the hardwood floor.
To prolong the life of the floors non-marking indoor footwear is mandatory while using the Field House facilities.
---
Sport Courts
To confirm the court schedule or to book a court (Members & Students only) please call the Field House Customer Service at 709-864-4422. To check on availablity, click here
Hardwood Court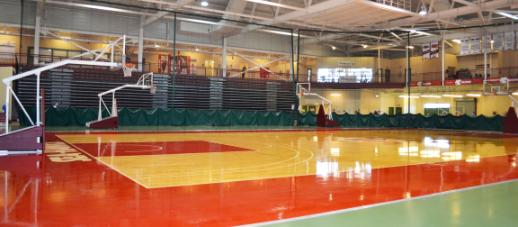 Located in the Field House this space is for recreational basketball and hoops. This area is also used for the Memorial Sea~Hawks varsity training and competition.
Basketball - Come by yourself or bring a few friends for a game of basketball or just to shoot hoops. A minimum of 8 participants is required to book a full court.
Green Court A

Badminton/Pickleball - Nets are set up for single or double games.
Table Tennis - 2 Table Tennis Tables are available.
Green Court B

Volleyball - Get a group together for a game of volleyball. A minimum of 10 participants is required to book the court.
Fitness Classes - During Fitness Classes, participants use Green Court B.
Court Booking Procedures
Members have a 6-day advance booking privilege. Court bookings are for 50 minutes, no double bookings(Back to back bookings with same players). There is a 10 minute grace period for bookings, if the member does not arrive on time, the court booking will be offered to other customers. All players must be members with the exception of those paying a drop-in fee.
Want to book a court? Give us a call at 709-864-4422.
Click here for court availability
---
The Workout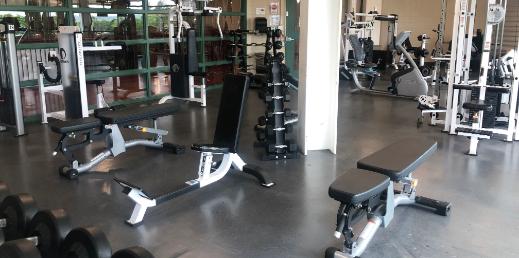 This compact public fitness area is located in the Field House. The Workout includes cardio equipment, a line of selectorized strength training equipment and free weights.

The Workout is air-conditioned, has a spectacular view of the city and televisions for you to enjoy while you exercise.
Access to The Workout is available for all memberships.
---
Field House Memberships & Pricing
Indoor Track Drop-In: $3.50, Indoor Track 12-visit pass: $35.00
Field House Combo (Includes Courts, The Workout, Indoor Track & Fitness Class) - One Visit: $9.00
1 Mo.
3 Mo.
6 Mo.
1 Yr.

Monthly Deduct.
Track
45
120
210
355
32.50
Field House Combo
82.50
220
395
660
58.75
Field House Combo
2nd Member
N/A
200
360
600
53.50

All membership prices are plus HST.